660 River Rd, Edgewater, NJ, 07020
9:00 am – 10:30 pm
https://www.sojospaclub.com/
SoJo Spa Club requires all outdoor pools and bath soups to be worn in Lycra or nylon swimsuits, so be sure to bring a beautiful swimsuit. Also, SoJo Spa Club is also required to expose the swimsuit. Especially exposed swimwear, friends pay attention!

It is forbidden to bring food and beverages inside.
It is forbidden to enter the age of 16;

Guests over the age of 18 can opt in without an adult.
You can choose to travel by car, public transport or take the shuttle bus provided free of charge by SoJo Spa Club.
SoJo Spa Club is located between the George Washing Bridge and Lincoln Tunnel. The small friends who drive from New York can choose the route to New Jersey according to their departure point. The journey takes about half an hour.
SoJo Spa Club offers free parking from 9am to 11pm. At the same time, SoJo also offers parking spaces at the nearby Comfort Inn Hotel.
Take the 158 bus from NJ Transit at Port Authority and go directly to the SoJo Spa Club.
The bus stop of bus No. 158 is located in the Port Authority station. See Gate below for the specific Gate. At the weekend , 158 is almost every half hour , so be sure to check out the time in advance.
The one-way fare for the 158 is 3.5 knives . You must purchase tickets at the ticket vending machine in the Port Authority station before boarding the car . Don't forget!
Bus 159 and 156 can also be reached near SoJo Spa Club, but it takes 15-20 minutes to walk. If you don't catch 158 children's shoes, you can think about it~
SoJo Spa Club offers a free shuttle bus to and from New York and New Jersey, but the shuttle bus is relatively small, with around 12 people per car, and is available on a first-come, first-served basis.
The Shuttle bus departs from New York in front of the West Bank Cafe at the intersection of 42nd and 9th Avenues. When returning to New York from SoJo Spa Club, it is best to make an appointment at the front desk in advance.
Ticket purchase at the front desk
After arriving at SoJo Spa Club, you can buy tickets at the front desk. A valid ID (including driver's license, passport, state-issued ID, etc.) is required at the time of ticket purchase.
The average working day fare is $60, and weekend and holiday fares are $75 (holiday refers to December 24th to January 1st). However, there is currently a $10 discount in winter, a fare of $50 on weekdays and $65 on weekends . The limited period is until March 15th of this year. Those who want to enjoy the discount must hurry up.
* Spa Treatment reservations I will explain later~

SoJo Spa Club is a traditional Korean sauna that requires everyone to be indoors and barefoot, but the little friends who are worried about cleaning problems don't have to worry, the indoor floor is very clean~ If you really care about the problem of barefoot, SoJo also sells socks that are not slippery. .
After buying a ticket at the front desk, you will receive a paper ticket with your Locker number on the ticket.
Find your Locker in the area where you store your shoes on the 1st floor. There will be an electronic bracelet on the Locker. This electronic bracelet is the key to your Locker. Put the shoes in the Locker and go to the elevator.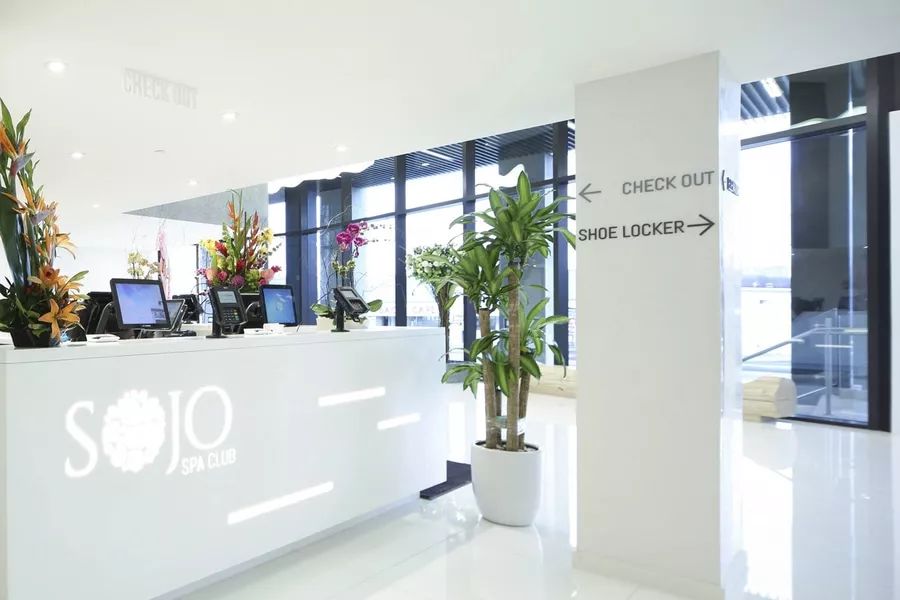 It is important to remember that this layer of Locker is only used to store shoes, and the storage of clothes and belongings is in the 4th floor locker room.
After storing the shoes, you can take the elevator to the locker room on the 4th floor.
* The electronic bracelet must be carried with you all the way! Because it is the key to your Locker, it is also used to record all your extra spending (such as dining).
Deposit personal items and change clothes
After arriving at the 4th floor, it is a separate dressing room for men and women. First of all, you have to go to the front of the locker room to get your bathrobe free of charge (if you don't need the soup, you can get the sauna suit directly), then you can enter the locker room and find yourself. Locker (number is the same as the shoe number, the key is still an electronic bracelet), store your personal belongings and put on your swimsuit.

* SoJo Spa Club requires guests to wear bathrobes or sauna suits indoors.
Change the swimsuit, you only have one step away from the hot soup and the sauna. That is the bath~SoJo Spa Club's bathroom provides shampoo, conditioner and shower gel, and the quality is not bad, not the hotel. A poor quality care product, give a five-star praise!

In addition to the bathroom, the dressing room also has a dressing room, even the lotion and hair wax are provided free of charge, the real drop is earth-moving!
* Reminder: You must take a shower in the shower room before entering any pool or bath soup.
Located on the top floor of the SoJo Spa Club, the outdoor infinity pool is warm all year round and offers views of the Manhattan skyline between the George Washington Bridge and Fort Park City. It has an excellent view and is perfect for taking photos of beautiful beauty~
The pedicure pool is a long shallow water walkway with smooth round stones on the bottom. Walking through it, you can promote balance and body perception through comfortable foot massage.

The open spa and hot soup combines three natural and effective treatments: heat, water and air, which are effective in promoting body metabolism and relieving muscle and joint pain.
Follow this outdoor water slide from the 7th floor to the 6th floor and enjoy the New York skyline. Unfortunately, the water slide was temporarily closed during the winter.

* Water slides must have a height of more than 1 m 22 and a weight of 136 kg.

The white cedar wood eucalyptus bath not only gives a smooth surface feel, but also a comfortable lemon aroma. This is a unique and natural scent called "Belva thiol". In addition, bath soup has an antibacterial effect.

This warm water bath is rich in natural carbon dioxide, which increases the level of oxygen in the blood and promotes circulation.

Using Japanese ionization technology, it nourishes skin tissue and enhances skin elasticity.
SoJo Spa Club offers saunas of different temperatures. Here are some more representative saunas.
Far-infrared heat protects the body from the natural sun's rays while avoiding the dangerous effects of solar radiation. The far-infrared sauna increases body temperature and stimulates the sweat glands, which not only helps blood circulation, but also accelerates fatigue.
Red clay, which has been used worldwide for centuries due to its medical and cosmetic properties, is a silicon mineral. It produces negative ions that accelerate blood circulation and oxygenation, releasing toxins from pores and muscles. SoJo Spa Club's red clay sauna uses 99% of natural red clay imported from South Korea.
White clay is a natural soil that stimulates the lymphatic system and helps to eliminate toxins from heavy metals, daily radiation and chemicals in the body. It also has great benefits to the immune system.

The walls of the sauna are made of salt bricks. The salt of salt bricks comes from the Himalayas and is formed in a non-toxic and pollution-free environment, revealing a unique pink color. Different from other traditional hot saunas, this salt sauna is relatively cold. The first time you try the sauna shoes, you can consider starting from the salt sauna.
The charcoal block comes from Korean oak, which absorbs and helps remove heavy metals and other chemical toxins from our bodies.
The cold air in the ice room can tighten the pores of the skin, rejuvenate the skin cells, remove fine lines on the face and slow down the skin. After steaming the sauna, I will soothe in the ice room and feel great~
"Ganbanyoku" means stone bed, a unique Japanese hot stone bed treatment. Lying on a heated black mineral slate, the slate emits far-infrared rays and negative ions, which accelerates the body's decomposition of toxic substances. In addition, the stone bed can accelerate blood circulation and strengthen the immune system.
The word Halotherapy comes from "halo", which means "salt" in Greek words. This is a very popular European physiotherapy method.
SoJo Spa Club, as its name suggests, offers spa treatments including body, beauty (face), manicures, massages and treatments.
To enjoy the spa, you need to make a reservation on the official website in advance, or walk in the same day, book at the SPA reception. In order to ensure that you can enjoy the SPA service in the time you want, it is recommended that you make an appointment in advance .
The spa is open from 10am to 10pm, and if you want to experience the spa outside of the spa, you need to check with the spa reception.
All reservations require a credit card guarantee.
Please arrive at least one hour before the appointment time so you can prepare for ample time. Late arrivals will be deducted during service hours.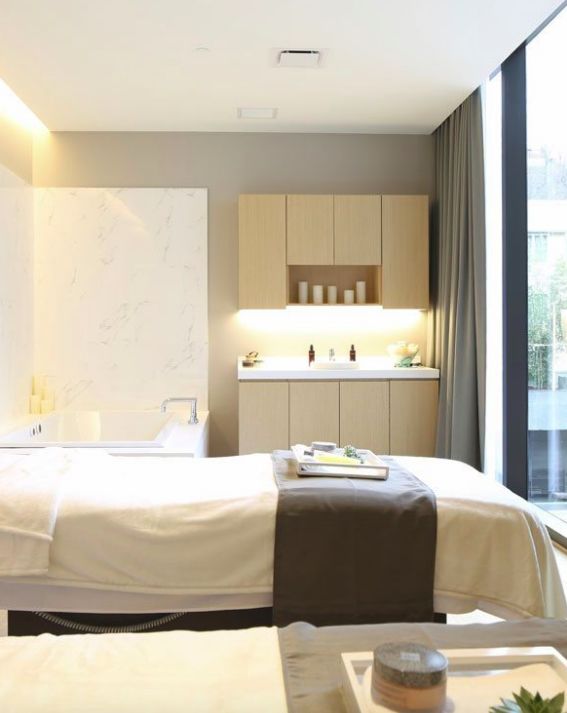 Cancel your appointment or change your appointment time free of charge 24 hours in advance;

Cancellation of an appointment within 24 hours will be deducted for half of the service fee;

If the appointment time does not appear, 100% will be deducted and no refund will be given.
$45-$595
Foot Massage

30 or 60 minutes $50/$95

Shiatsu Massage

30 60 minutes $60/$110

Hand and Arm Treatment

30 minutes $55

Chair Massage

30 minutes $55

Head-To-Toe Reflexology

90 minutes $155
Aromatherapy Massage


60 or 90 minutes $175/$225

Deep Muscle Massage

60 or 90 minutes $175/$225

Heated Salt Stone Massage

60 or 90 minutes $175/$225

Scalp Massage

30 minutes $65

Maternity Massage

60 or 90 minutes $175/$225

Couples Massage

60 or 90 minutes $375/$475
– RESULTS-DRIVEN FACIALS –
Personalized Facial


60 minutes $175

Advanced Skin Radiance


90 minutes $215

Ultimate Lift Facial


90 minutes $275

Advanced Enzyme Facial


90 minutes $275

Optimal Pro Facial


60 minutes $175

Cleansing Back Facial – Add On

30 minutes $75

Lift and Firm Eye Treatment* – Add On

30 minutes $65
Marine Body Sea Wrap


60 minutes $185

Salt & Oil Scrub


60 minutes $185

In The Buff

30 minutes $85
Korean Body Scrub Premium


120 minutes (30 min soak + 90 min scrub) $135

Korean Body Scrub Plus


90 minutes (30 min soak + 60 min scrub) $115

Basic Korean Body Scrub


60 minutes (30 min soak + 30 min scrub) $70
Glow Facial


30 minutes $85
Muscle Reviver

30 minutes $85

Deep Cleansing Facial

60 minutes $175

Stress Buster

90 minutes $225
See details
https://www.sojospaclub.com/spa-menu/#spamenu-nails

Booking link
https://www.secure-booker.com/SoJoSpaClub/MakeAppointment/Search.aspx

Finally, let's talk about the floor layout of SoJo Spa Club for everyone to have a general impression before going.
The fourth floor is mainly a dressing room and bathroom, as well as several outdoor baths. The bathroom is equipped with a shower, a dressing room, several cold pool hot tubs, a dry sauna and a wet sauna.
The fifth floor is dominated by several different saunas and spas.
The sixth floor is mainly the restaurant and Cafe. The restaurant is open from 12 noon to 6 pm, and Cafe is open from 9 am to 9:30 pm. However, it is necessary to remind everyone that the taste is really normal, so don't hold the attitude of eating food, just fill your stomach.
The focus of the seventh floor is of course the infinity pool! In a word: "Beautiful and beautiful! Pat and shoot!"
The eighth floor is mainly a top floor garden, but the winter is too cold. I gave up decisively.
Incidentally, SoJo Spa Club also has hotels. If you have a small partner from afar, you can also consider staying for one night.
Well, this SoJo Spa Club strategy is written here, I hope I can help the children's shoes I want to go, hehe~